COURAGE TO CRITICIZE
 

OUR RELIGIOUS LEADERS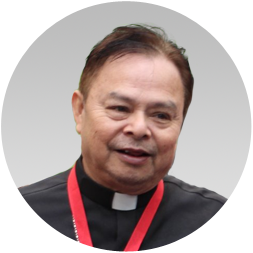 By: The Rev. Fr. Hermogenes P. Verano, DPA
Mission Priest, Diocese of Greater Manila Area
In theory or in practice, to express criticism or to judge as a critic a religious leader or a person higher in position in the Church is perhaps considered a taboo. Well, do we really have the courage to express our criticism or perhaps censure respectfully and candidly our religious leaders or someone in authority in the Church?
To find context in this daring question, let us reflect on the Letter of St. Paul to the Galatians, chapter 2 verses 1-2, 7-14. This is only a part of the whole passage mentioned above, of which Paul had relayed to the Galatians. It's more possibly understandable but not certainly if we read it in our own language.  Reading the whole passage will give more perspective of what had really happened. Anyway, focus on verses 11-14.
"Pinagsabihan ni Pablo si Pedro. Nang si Pedro'y nasa Antioquia, hayagan kong sinabi sa kanya na mali ang kanyang ginawa. Sapagkat noong hindi pa dumarating ang ilang lalaking pinaparoon ni Santiago, siya'y sumasalo sa mga Hentil. Subalit nang dumating ang mga iyon, siya'y lumayo at hindi na  nakisalo sa kanila dahil sa takot sa pangkat ng mga Judio. At gumaya rin sa kanya ang ibang mga kapatid doon sa mga Judio, pati si Bernabe natangay sa kanilang pagkukunwari. Nang makita kong hindi sila namumuhay ayon sa diwa ng Mabuting Balita, sinabi ko kay Pedro sa harapan nilang lahat. 'Kung ikaw na isang Judio ay namumuhay na parang Hentil at di bilang isang Judio, paano mo mapipilit ang isang Hentil na namumuhay na gaya ng isang Judio?'"
Anent to our topic about criticism, let us reflect on the following statements and I quote: "In Asian cultures, there is such a respect for social precedence-- ascendancy due to age, seniority, kinship, title, prestige, etc. -- that is unthinkable for one of inferior rank to admonish someone belonging to a higher rank." Yet in today's reading we have an instance of exactly the opposite of what is happening. Here is the background of this incident.
At the so-called "Council of Jerusalem" which is recounted in Acts 15, it has been decided that the pagans who had converted to Christianity would not be required to undergo circumcision and to follow the food regulations of the Mosaic Law. Yet a small but influential number of Christian Jews from Jerusalem still expected converts to follow those regulations. Peter had eaten with some new converts and had ignored the food regulations until strict Jews from Jerusalem came. And then Peter stopped eating with those new converts, thus negating in practice the agreement reached at the Council. Seeing this act of cowardice, Paul publicly rebuked Peter. What is remarkable here is that Peter was the head of the Church, considered the first Pope, and that Paul, inferior in rank, rebuked him because Peter was obviously in the wrong. 
As per observation, in my experience as a priest for 44 years to be exact, inferiors like deacons or priests are mum about their feelings. Nowadays, are there instances of inferiors criticizing their religious leaders?  Rarely, due to fear of being sanctioned?
I don't know if it is still a taboo to rebuke or criticize a superior if indeed this is considered "unbecoming" in their acts. But it is my opinion that church leaders should not be "onion skin" when it comes to criticism; more so if it is constructive. How can we improve in our relationship in the same vineyard of Christ if we become very emotional?  Logically, is it possible to talk with seriousness if the other side is quite in despair? In situations when we feel the heat, we should have to call off and let intense emotions subside, and then later consider the issues calmly. We cannot go any further, if we have no respect for each other's sensitivities. A no holds-barred session is imperative?
Am I supposed to say MEA CULPA? (Latin: "Through my fault; my fault" – acknowledging one's responsibility.)
---