THANK YOU
POWERFUL WORDS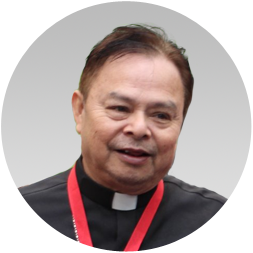 By:  The Rev. Fr. Hermogenes P. Verano, DPA
Mission Priest, Diocese of Greater Manila Area
Some, if not most, perhaps care less about expressing "thank you" every time something good is done to/for them. It is as if it's very difficult to open one's mouth and express the very consoling words of "thank you."
Metaphorically, the two words begin with "T" and "Y", respectively, which are especially connected with or attached to the One crucified on the Cross. And if we observe and analyze the crucifixion, we realize it means "thank you". 
The power of saying "thank you" conveys to both the giver and receiver a sense of good accomplishment, a sense of positive reinforcement, and a sense of kind appreciation. 
There is so much to be grateful for all the things that we accomplish and will be accomplishing not only for our lives' sake but for others, as well, who are unfortunate enough to be given the opportunity to enjoy the chance of experiencing God's bountiful goodness. And yet, "thank you" is simple enough, for we are still enjoying this life.
Another one is that "thank you" conveys positive reinforcement. It means that it is a nod and clearance to further pursue what we are at present doing in our lives by enriching these to the fullest with God as our Guide of course. It is like saying, "Go on!"
Saying "thank you" also conveys a kind appreciation, as doing something good invites people to appreciate our deeds. And it feels so good if some people take a second look at what we're doing. It enlivens us while we are comforted by the acknowledgement. It reminds us how blessed we are.  Relatively, we should continue to appreciate the tiniest (or sometimes most trivial) of things. These two words have a humbling impact on our lives with tears of gratitude filling up our hearts and also senses. 
In this connection, the Holy Bible is oozing with different citations with the expressions of thankfulness. Even Jesus expected those ten lepers He healed to be thankful; yet only one returned to express his gratitude (Luke 17:11-19). Also, Jesus was grateful to His Father for revealing to Him "things hidden to the wise and intelligent" but reserved only for those who would accept Him as the Son of God (Matthew 11:25-30). 
Other Scriptural examples include: Psalm 95:1-5, 103: 1-4; Isaiah 12:4-5; Colossians 2:6-7; 1 Chronicles 16:34; Hebrews 12:28; and James 1:17. Additionally, the first Letter of Paul to the Thessalonians 5:16-18 says, "Rejoice always, pray continually, give THANKS (emphasis, mine) in all circumstances; for this is God's Will for you in Christ Jesus."
Consequently, by expressing our gratitude to people and to God, we open up innumerable doors for God's insurmountable blessings. These two words if spoken with sincerity can amazingly change or transform the world.
---