IFI SAINTS AND MARTYRS
A Reflection for All Saints' Day
November 1, 2022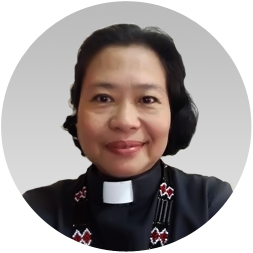 By: The Rev. Erahvilla Maga-Cabillas
UP Parish of the Holy Cross, Escaler, Diliman, Q.C.
BACKGROUND
What is "All Saints' Day"? Why is this celebrated regularly? What is its historical background? What is its difference from "All Souls' Day"?
"All Saints' Day" is mainly a Christian solemnity, or dignified remembrance, that celebrates the honor of all church saints, whether known or unknown. This holiday is also known as "All Hallows' Day", the "Feast of All Saints", the "Solemnity of All Saints", and the "Hallowmas". This is a yearly reminder of our connectedness as Christians to the Church and it is commemorated annually every November 1st.
Possibly, we were taught to think of saints as statues or icons inside the church building; placed upon the altar of worship houses or in any other places considered respectable or with special reverence. But the Bible teaches something completely different. Who is a saint? We are. You are. That is, if you are a follower of Jesus. God calls a "saint" someone who trusts in Christ alone for salvation (see Acts 9:13, Acts 26:10, Romans 8:27, 1 Corinthians 1:2).
All Saints' Day is a Christian celebration in honor of all the saints from Christian history. In Western Christianity, it is observed on November 1st by the Roman Catholic Church, the Methodist Church, the Lutheran Church, the Independent Churches, and the other Protestant denominations. The Eastern Orthodox Church and associated Eastern Catholic Churches, on the other hand, observe All Saints' Day on the first Sunday following Pentecost.
The Christian festival of All Saints' Day comes from a conviction that there is a spiritual connection between those in Heaven and on Earth. In the Catholic tradition, the holiday honors all those who have passed on to the Kingdom of Heaven. It is a national holiday in numerous historically Catholic countries. In the Methodist tradition, All Saints' Day relates to giving God earnest gratitude for the lives and deaths of His saints, especially remembering those who were well-known and unknown. Additionally, individuals throughout Christian history are celebrated, such as Peter the Apostle and Charles Wesley, as well as people who had personally guided one to faith in Jesus, such as one's relative or friend. In addition, "All Saints' Day" annual observance reminds us of our connectedness as Christians to God; either celebrated every November 1st or other date.
 
BIBLICAL DEFINITION OF SAINTS
From the biblical perspective, sainthood is not declared by a group of religious leaders. It is granted by God Himself to any common, salt-of-the-earth person who simply trusts Christ (1 Corinthians 1:2). Words matter; and sowing confusion about good, biblical words like "saint" is not from God. The Gospel message is that God the Son came to earth, lived a perfectly obedient life, died on the cross to pay for our sins (Romans 5:1), and rose again, proving His atoning work was complete (Romans 4:22-25).
Commonly, we are taught that saints are those who give up the anti-faith alternative of trying to please God by their good deeds and, instead, trust Christ alone. Scriptures says that the person of faith actually becomes the very righteousness of God (2 Cor. 5:21)! Hence, all the faithful are considered to be saints. This is where we are called. Through the channel of human faith (the means of salvation), we become united to Christ (the source of salvation), and we are saved from God's judgment as well as from the futile way of life that we naturally follow (1 Peter 3:18).
In other words, we are granted sainthood! Yes maybe some of us are skeptical or doubting. But think about this: if God calls the worldly, sinning believers in Corinth "saints"-and He does in 1 Corinthians 1:2-couldn't He call you a saint as well? As it is stated, anyone who trusts in Christ alone for salvation is a saint in God's sight.
 
IFI's DEFINITION OF SAINTS
In the IFI Declaration of Faith and Articles of Religion (DFAR), we revere all biblical saints, meaning those saints rooted in the Holy Scriptures. This is where the IFI differs from the other Christian denominations which created their own lists of saints. The Roman Catholic Church has its own listing of old and new saints, and future saints based on their credentials or authorizations, approvals, and endorsements. So in the IFI we basically have the Twelve Apostles, Mary the Mother of Jesus, Mary Magdalene, and the Filipino Martyrs whom the IFI acknowledged and declared as saints like Fr. Mariano Gomez, Fr. Jose Burgos, Fr. Jacinto Zamora and Dr. Jose Rizal.
In the Articles of Religion (DFAR) taught by the IFI # 15 "The Saints", it says:
"Persons universally recognized for their holiness of life, loyalty and courage, especially the Blessed Virgin and the New Testament Saints are to be held in reverent remembrance. Veneration of Saints is not contrary to God's commandments as revealed in the Scriptures but their deification is condemned by the Church as a monstrous blasphemy. Veneration of the Saints must not obscure the duty of the faithful to direct approach to God through Jesus Christ. Honor rendered the Saints must in no way detract from the due Three Persons of the Holy Trinity."
While we adhere to the biblical saints as far as DFAR is concerned, we know by experience that many IFI churches are named after different saints following the practice of the Roman Catholic Church; we also make them our patrons and patronesses. Greatly influenced by the Roman Catholic faith, tradition, and dogmas, it is no wonder that many among us members of the IFI are inclined to take their teachings as our own, based on the old reasoning, "Parehas lang naman tayo, walang pinag-iba." But if we carefully study and reflect, there is a great difference in our teachings and doctrines in comparison with all other denominations. In other words, we are one as Christians in our Trinitarian Faith, but we differ a lot in doctrines and teachings. So the thinking that we are the same is untrue.
We agree that we, living humans, have connections to the biblical saints as we all desire to follow the Lord. They were the living witnesses who, because of them, Jesus was made known to us with their living-experience in Jesus. So keeping our observance in remembrance of the biblical saints and Filipino martyrs is our continuing affirmation and reverence of them in their exemplary lives.
Though we hold on to the biblical saints, the IFI has also respect for the other sects and denominations of their beliefs, teachings, and doctrines. All the saints in the Roman Catholic Church have their own origins, backgrounds, and go through a process before they are declared or canonized as saints. One does not need to be confused, but there are hundreds of choices for devotion.
 
IFI-REVERED SAINTS
In the IFI, we have Filipino church leaders equally significant as saints, but we do not produce saints according to the processes of other churches; instead, we recognize martyrs and confessors in the IFI. Remembering them, we reverently include our very own departed leaders like Isabelo "Don Belong" de los Reyes, Sr., (Obispos Maximo) Bishops Gregorio Aglipay, Santiago Fonacier, Gerardo Bayaca, Isabelo (Beluco) de los Reyes, Jr., Macario Ga, Abdias de la Cruz, Soliman Ganno, Tito Pasco, Alberto Ramento, and Tomas Millamena.
Our Church has designated a day of remembrance for the IFI martyrs and confessors which will be held on November 11, 2022 at the IFI National Cathedral. To date, we have the following:
 
REV. JEREMIAS ANCHETA AQUINO, Priest of the IFI
Father Jerry Aquino (1 June 1949 – 14 December 1981) was a member of the Student Christian Movement of the Philippines and of the Christians for National Liberation. In 1977-1978 he was the director of the Ecumenical Center for Development, and a missionary priest of the IFI Diocese of Greater Manila Area. In 1978, he became the program coordinator and youth director of the Laoag (Ilocos Norte) Diocese, and concurrent associate rector of Pagudpud, Ilocos Norte. It was during this posting that he was arrested in September 1979, in Sadanga, Mountain Province. He and several companions were held at the Philippine Constabulary stockade in Bontoc; then transferred to the Bicutan jail in Metro Manila. After prolonged fasting and hunger strikes to protest prison conditions, he was released on 24 December 1980. It was part of a series of prisoner releases meant to generate positive press in light of the arrival of Pope John Paul II in Manila two months later. Upon release, he assisted and initiated the Freedom Shop, a carpentry shop for unemployed former political prisoners. He died in a "suspicious" vehicular accident on 14 December 1981.
 
REV. NARCISO PICO, Priest of the IFI
Rev. Narciso Pico was shot dead on Jan. 10, 1991 by two unidentified gunmen as he left the cafeteria adjacent to his convent/rectory, 510 kilometers southeast of Manila. Friends and relatives said the killers were members of the Civilian Armed Forces Geographical Unit, but the military said this could not be confirmed. A witness to the murder reportedly told the IFI leaders that the killers were seen with the leader of a Negros "rebel returnee" group, formed after the government conducted a surrender program for members of the Communist-led New People´s Army (NPA). Human rights organizations claimed that surrendered or "surrenderees" were used by the military or landowners and business people to hunt down the NPA. Father Pico´s wife, Evangeline, stated that her husband told her several times that he received death threats. In 1987, Father Pico was assigned to Ma-ao IFI Parish in Bago City, 480 kilometers southeast of Manila. He told fellow priests that he had been warned by the people that some members of the military suspected that he supported the NPA. On a July 1989 television program, an unidentified and self-confessed rebel returnee accused the priest of working for the NPA. Father Pico belied the allegation and continued his pastoral work. He was killed as he was preparing his convent for the monthly clergy meeting of the diocese.


REV. WILLIAM TADENA, Priest of the IFI
The victim, Rev. William Tadena, 37, was killed on March 13, 2005 in front of the church while he was preparing to leave after officiating Mass in La Paz, Tarlac. A native of Victoria town, he chaired the local human rights committee of IFI, commonly known as the Aglipayan Church, and was actively involved in Karapatan, a human rights group, and Bayan Muna and Anakpawis, both party-list groups. Two motorcycle-riding men fired at Father Tadena who was on board his owner-type jeep with the sacristan and member of the choir. Father Tadena died while he was being treated for multiple bullet wounds at the Central Luzon Doctors' Hospital. He was a strong supporter of the workers in Hacienda Luisita, Tarlac.
 
BISHOP ALBERTO RAMENTO, 9th Obispo Maximo of the IFI
Bishop Alberto Ramento's body was discovered inside his church rectory in Tarlac City on October 3, 2006. Obispo Maximo Ramento was an ecumenical icon in various ecumenical movements in the country and was known as a staunch advocate for human rights especially fighting for the rights of sugar-plantation workers in the northern province of Tarlac. Police originally ruled the killing as a "simple case of robbery with homicide," while a local court later dismissed the case against the then-suspects because the police failed to attend court hearings. But the IFI and other human rights groups remained skeptical of the official explanations. They said the police investigation and botched prosecution were part of a "systematic cover-up" of the Ramento murder. He was honored as a "bishop of the poor peasants and workers". The Union of Workers in Agriculture said the late bishop "worked tirelessly" to seek justice for the victims of the November 16, 2004 Hacienda Luisita massacre, in which seven farmers were killed and 121 others were injured when police opened fire on a protest blockade. The group said that Ramento's work as a "fearless human rights advocate" earned him the ire of the military. However, police officials insisted the killing was not politically motivated. Former police officer Nicanor Bartolome, who handled the original investigation of the bishop's killing, said in an interview that there was "no evidence that would point to another motive other than robbery".
 
BENJAMIN BAYLES, Lay Minister of the IFI
Benjamin Bayles was a lay minister in the Parish of San Ramon Nonato, and a committed church worker. He was the District Chairman of the Aglipayan Forum, the Church's advocacy group, in the Diocese of Negros Occidental. He was an active member of the human rights organization September 21 Movement, and the peasant organization National Federation of Sugar Workers. He was also a member of Bayan Muna Partylist. His involvement with the marginalized sector, the peasants' and workers' organizations, has earned him the fury of the military who tagged him as a member of the New People's Army. On June 14, 2010, while waiting for a ride in Himamaylan City, Bayles was attacked by two men wearing helmets on board a black motorcycle. He was shot several times, and when he fell to the ground, the gunmen continued to shoot at him to ensure that he was dead. He was brought to the hospital but was pronounced dead-on-arrival. He had received numerous threats to his life prior to his killing.


MELITON V. CATAMPUNGAN, Lay Minister of the IFI
Meliton Villagorda Catampungan, a 60-year-old farmer, traffic enforcer, and lay minister of the Iglesia Filipina Independiente, was shot to death on his way home in the afternoon of July 10, 2017. At around 12:50 pm he stopped at a local convenience shop on the way back to his house. A man and a woman, both wearing helmets, arrived on a red motorcycle without a licensed number plate. The woman, still wearing her helmet, got off the motorcycle and crossed the street towards Mr. Catampungan. She stood beside him while he was paying at the store and shot him three times in the armpit; then she got back on the motorcycle and drove away. He was rushed to a hospital in Kitcharao but didn't survive. He was the chairman of the farmers' group "Nagkshiusang Mag-uuma sa Surigao del Norte" (NAMASUN), affiliated with a progressive farmers' group "Kilusang Magbubukid ng Pilipinas" (KMP) which was declared by the military as "leftist". KMP-Caraga believed Catampungan was killed by government agents because he was very vocal in his stand for agrarian reform and against the entry of the military's Peace and Development Program in farming communities in Surigao del Norte. Earlier that same year, in May, Mr. Catampungan had to move from his former residence because some men, believed to be soldiers, were asking around for his whereabouts.


ERNING AYKID, Lay Reader of the IFI
Erning Aykid, the first Mangyan IFI Lay Reader of Sitio Silad, Barangay Binli, Bulalacao, Oriental Mindoro, a Brgy. Councilor, and a Human Rights advocate for the Mangyan Communities, was shot to death by unidentified assailant/s on 15 September 2017 at about 11 am. Erning sustained five gunshot wounds and was survived by his wife and six children. He was 45 years old and a leader of the Hagibat Mangyan (Coalition of 8 Mangyan Tribes). Erning Aykid, through his leadership, was able to stop the development of a big ranch in their area, owned by a powerful politician. Their struggles' victory prevented the dislocation or the diaspora of the Mangyan communities.


SALVADOR ROMANO, Youth Leader of the IFI
Men riding in tandem on a motorcyle shot dead a 42-year-old church worker of the Iglesia Filipina Independiente near one of its churches in the town of Manjuyod, Negros Oriental province on July 7, 2019. Salvador Romano died from multiple gunshot wounds after he was shot past noon. Romano was busy preparing the food in the church for the internal evacuees in the town before he went home on a motorcycle to change clothes. According to the human rights group Karapatan (Right), Romano was adviser of the group Youth of IFI in the dioceses of Negros Oriental and Siquijor. He was also a former volunteer of Karapatan, which had been the subject of repeated rants by President Rodrigo Duterte over the group's criticism of summary killings in Duterte's war on drugs.
Note: I had a good chat with him in March 2019 after the IFI Execom Meeting and told him to transfer to LIFI because he was "no longer a YIFI for he was beyond 35 already". He replied, "After the YIFI at 50 Gathering, Rev, I will surely be a LIFI;" a promise which never realized.


BRICCIO NUEVO, JR., Lay Minister of the IFI
An active lay minister of the Iglesia Filipina Independiente (IFI) in the Diocese of Negros Oriental and Siquijor was shot dead in broad daylight last May 4, 2021, by an unknown motorcycle-riding assailants in Poblacion, Plaridel, Guihulngan City, Negros Oriental. Briccio Nuevo Jr., 71, was sitting at a motor shop when assailants wearing bonnets approached and shot at him. Suffering critical gunshot wounds, including in the head, Nuevo was rushed to the district hospital where he was pronounced dead on arrival. Known as "Tatay Sagor" by many IFI members, especially in Guihulngan City, Nuevo was previously red-tagged. Group KAGUBAK or "Kawsa Guihulnganon Batok Komunista" (Concerned Guihulnganons against Communists) included him in a list of alleged sympathizers of the New People's Army. Sagor served the IFI congregation in Guihulngan City for many years as a lay minister.


THE CHALLENGE
Nowadays, All Saints' Day observance appears to be no different or varies from All Soul's Day because everybody thinks both holy days are about the departed ones. For some, it is a continuation of two holidays combined and dubbed as a "long weekend" which means a longer vacation and rest days starting from Saturday, Sunday, through Monday and Tuesday.
It is a great challenge for the IFI especially on the ordained to remind the people and to keep the significance of All Saints' Day observance especially on the IFI teaching. While we are joyfully celebrating the lives of the hundreds of saints we know, lest we undermine our very own IFI-revered and declared saints, we inclusively honor our very own IFI Martyrs. This has been a big task on my part, for I knew less then, and am now being educated as well. Let us help to announce and promote our own IFI-revered martyrs. Emulating their good deeds, exemplary acts, and life sacrifices will sustain us to continue inspiring and motivating ourselves in our Christian pilgrimage; journeying together reflective of what Jesus Christ had modeled during his earthly ministry starting in Galilee.
As Christians and IFI members, we are called to live out and continue what Jesus had started. We are called to follow and deem to always be good in the sight of God hence leading us into the righteous path exampled by Jesus Christ Himself… Blessings to everyone!
(References: IFI Centenary Bible, Google, Article on IFI Martyrs by Rev. Dionito M. Cabillas)
---